vMix Profile
This feature allows you to determine which vMix profile to use when starting theiStream Studio.

| | |
| --- | --- |
| Default | You can set your own default vMix profile. Click on browse to open the settings window. |
| Last Modified | vMix regularly saves changed settings into last.vmix. Using this option will load the last automatically saved settings. |
| Always Ask | This will force a pop-up. You will need to select a profile before vMix starts. |
Click on Browse to change the default

Select a profile and click Set as Default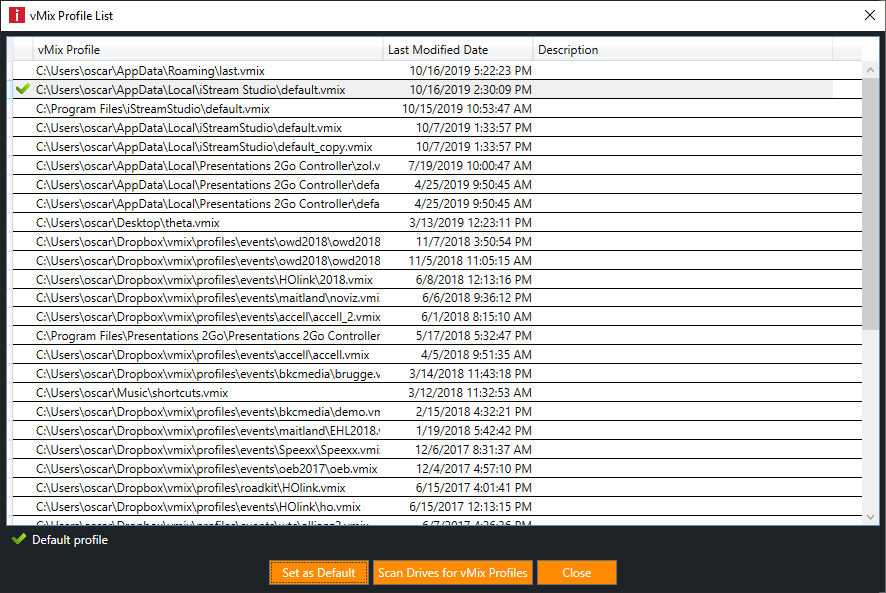 Always Ask
When you select "Always Ask" the interface will change slightly.
| | |
| --- | --- |
| Set as Default | With this button you can set the selected profile as default. |
| Scan Drives for vMix Profiles | This will force a scan for *.vmix files on all connected disks. |
| Use Selected vMix Profile | This button will continue starting theiStream Studio with the selected profile |
Click on the profile you want to use.

Now select "

Use Seleceted vMix Profile

"